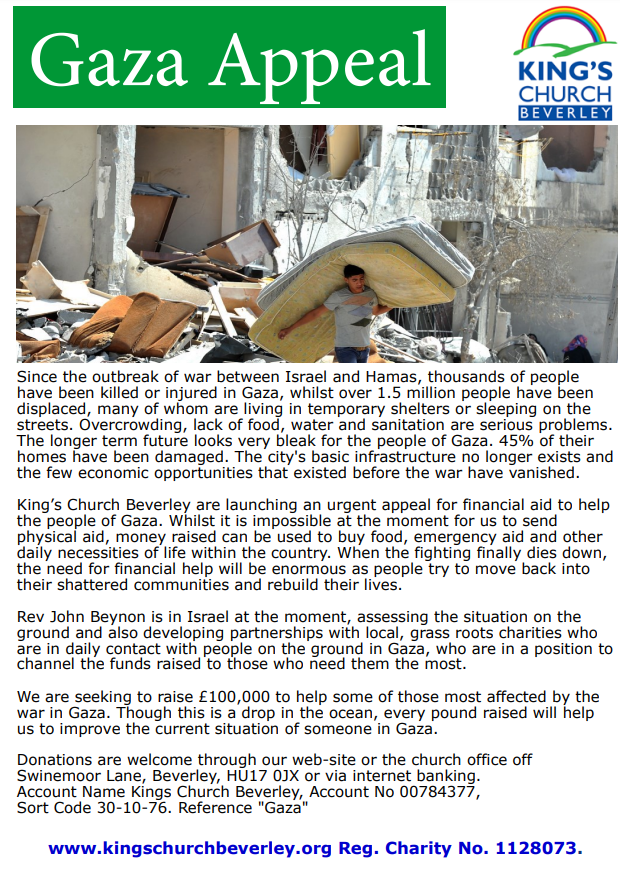 Let me tell you about the NGO that I am proposing to channel the funds through. I am staying here at a well known international Christian ministry called Succat Hallel. They are registered as an NGO in America and here in Israel. They have been here for over 20 years and have a very good reputation across a wide range of churches and ministries. When I was planning my sabbatical I asked several other Christian organisations working in Israel which would be the best place to stay with so that I could see a broad range of churches, both Arab and Jews, foreign, orthodox, evangelical, pentecostal etc, many of them recommended Succat Hallel to me as the best ministry for this. I had already heard of it as it is quite well known.
This ministry has worked for 20 years in Israel to try and bring together all the different Christian groups (which is not an easy task). Before Covid they held large conferences, which brought together a very wide range of Christian ministries and churches from the North, south, east and west of Israel. they also (unusually) brought together Arab ministries and Messianic ministries and so became one of the most well known points of unity in the realm of prayer in the nation. They have a house of prayer where they have had people coming from all the different churches in the region to hold prayer watches, and they have covered 24 hours a day for over 20 years now. Young and Old, Arabs and traditional – a huge number of people are involved. This is all to show how well respected this ministry is.
They have a team of staff and partners who facilitate this work. the man who leads the networking among the Arab churches is called Milad. His father is a baptist pastor who worked for the bible society in Israel for most of his working life. Milad comes from a strongly Christian family and is has been in full time ministry with Succat Hallel for many years. He travels internationally with the leaders taking prayer conferences around the middle east, Europe and America. Milad is someone who grew up in Gaza, but now lives in Bethlehem, in the West Bank. He has an Israeli passport so is an Israeli Arab, although really, he is of the same people group as the Palestinians. He knows personally all the evangelical Arab pastors in the country. Because the Arab Christians are often very poor, Succat Hallel has often received money from abroad to help these people – the poorest people in the land. They have a lot of international church groups visiting from the States, Europe, Asia etc. and these group often want to give money to help the poor, so this is a regular, ongoing part of the work of Succat Hallel. The way that they distribute these funds is that Milad (who is their lead team member working with the local Arab churches will contact the pastors to ascertain which areas or families are the most in need and how they can be helped. Money has often come through Succat Hallel that has been distributed by the churches in the form of food parcels, sacks of rice, bread, etc. The churches do not just help the Christians but they also help their Muslim neighbours many of whom are equally poor. Over the years there has been a lot of need for this. Whenever there is an upsurge in fighting, the borders with the Palestinian territories close, tourists don't come and spend money in places like Bethlehem and Nazareth, and so people are often short of daily necessities.
Everyone here in Israel is very aware of the back doors of funding into Hamas – much more aware than we are in the UK. Succat Hallel has been living and working in this environment for over 20 years and have developed strong personal networks of churches and pastors that they trust through whom they distribute funds. As committed Christians they are completely against Hamas and violence in any form, as are the Arab Churches with which they work. However they recognise the need to help the local poor because that has always been a central part of the churchs' mission.
You can see more about Succat Hallel on their web site www.succathallel.com though the web site mainly talks about their prayer work which is their central focus, rather than the work with the poor, which is a side ministry. Their board would oversee that the donations that we send are only used for the purposes for which we send them. They are a registered NGO in both Israel and America and so have a high degree of compliance – more so in Israel than in America as the Israeli's want to know EVERYTHING that you are doing and of course check very carefully that you are not secretly supporting terrorism (as you know their secret police are probably the best in the world and all NGO's are checked very thoroughly within Israel).
I did have a long conversation with the American founder and director about possibly sending money to help the poor in Gaza. He told me that this would be no problem for them. They had the infrastructure already in place because they do it quite often. Of course at the moment you can't really do anything but hopefully within a few weeks the window will open and it is good to be ready for that time.

– Rev. John Beynon – 16th November 2023