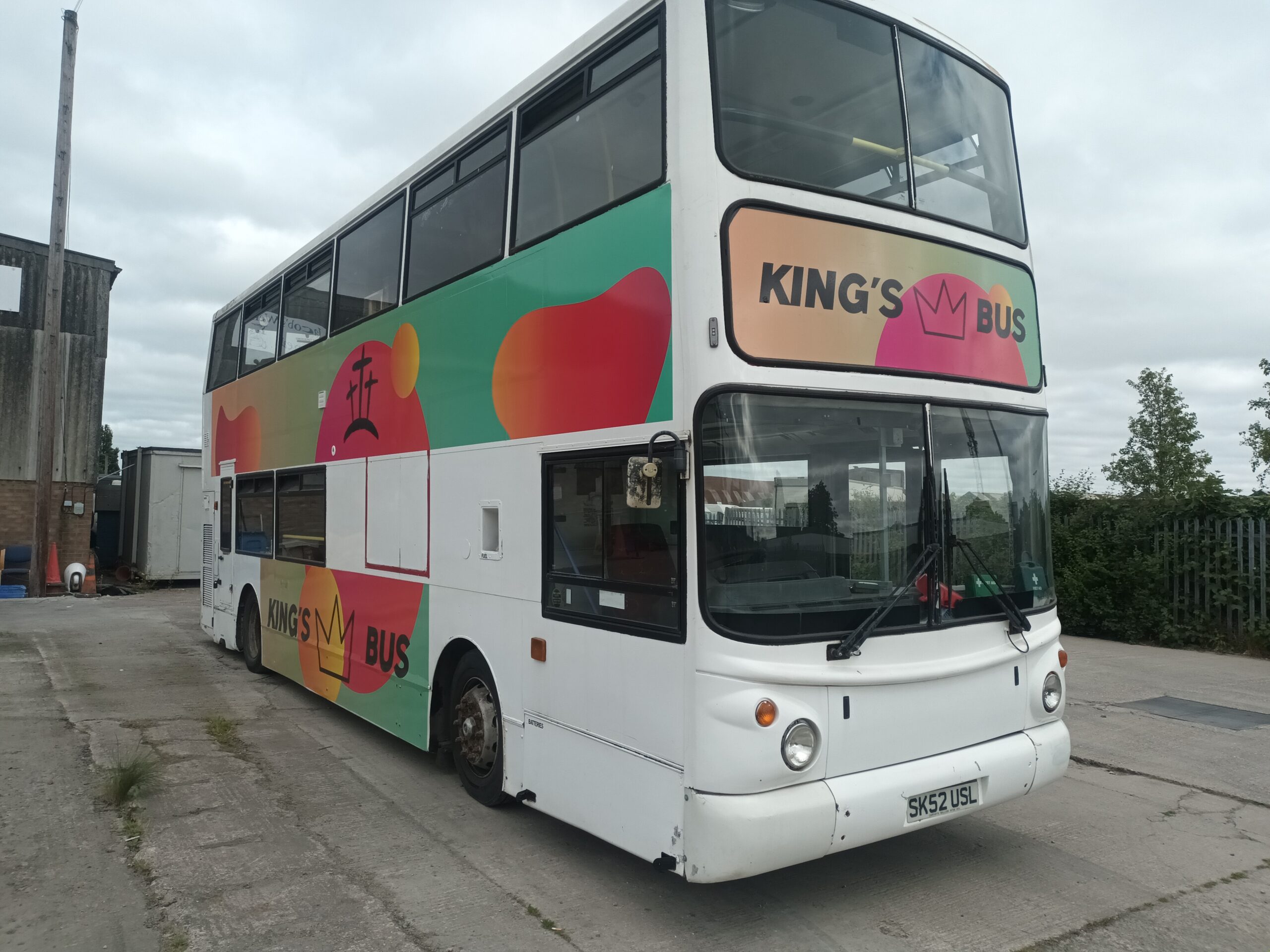 The King's Bus has been running a successful weekly after school's club since May 2018 in the heart of Beverley's largest council estate.  Over the years we have received funding from the Beverley Town Council, the Awards for all scheme (National Lottery), the Routh Wind Farm and the Beverley Rotary Club as well as ongoing funding from King's Church Beverley.
In the autumn of 2022 our old single decker bus was replaced by a much better double decker bus which has since been fully converted as a purpose built youth club.  The bus parks on the green, which by the central shops and near to the local primary school on the Swinemoor Council Estate in Beverley. It attracts between 30-50 kids per week, with ages ranging from 3 – 18.   It has also run a successful holiday club over the summer with a weekly attendance of around 50 young people and their parents.  The holiday club also provided a healthy picnic lunch for the attendees, many of whom come from families struggling to get by on benefits or low incomes.
Since June 2023 the bus has been going out 2 times a week, with a second after-scools club running outside Beverley Grammar School. 
Activities on the bus
The King's Bus project aims to re-introduce traditional games and activities to today's children and young people, using a classic bus as the hub for its activities.  Activities we run on the bus include;  traditional board games, Arts and Craft, Table football, Air Hockey, Nail Painting.  Outside the bus on the green, where available we also run Circus Skills, Table Tennis, Croquet, Archery, Petanque, Swing ball, Badminton, Skipping and Quoits.
The bus provides a flexible space that can be set up for a wide variety of different activities. Where possible, we park the bus alongside a green or safe paved area which can be used for outdoor activities when the weather is good.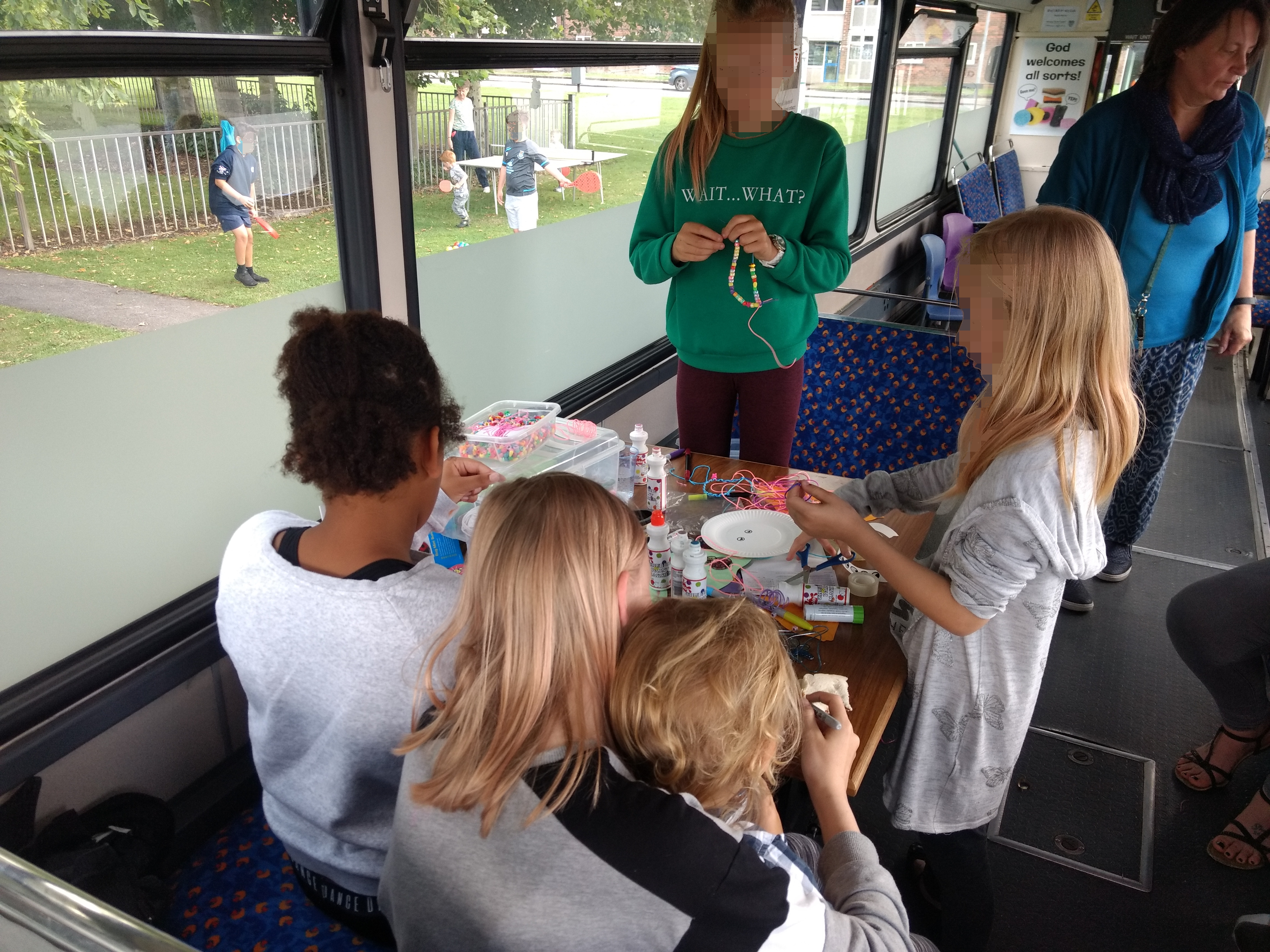 The project aims to engage young people in positive, recreational and educational activities, along with the possibility of life-skills mentoring by suitably trained staff.  It aims to meet a need for a safe and accessible place for young people to go and so reduce the numbers of youths gathering on the streets. This contributes towards addressing the local residents concern in relation to crime, violence and intimidation. It is also envisaged that activities and conversations will help to address issues such as self-harm, family breakdowns, mental health issues and violence, gangs and poverty.  The team aim to help the participants find a sense of personal well-being and community responsibility as well as nurturing talents in sports and arts.
What they say
Q. "Swinemoor Estate needs the bus because…"
"There are so many kids that cause trouble on the estate because they have nothing to do"  (Graham, Dad)
I have a handicapped kid, and this is the only place I can take him where he can do things. (Graham, Dad)
It's new for the children and something for them to do (Mum)
It keeps kids socialized and make new friends (Rilee aged 12)
Fun needed for young people.  Beverl
ey needs more youth clubs. The bus is  Brain interactive (Choe age 15)
It gives you something to do instead of sitting and home on electronics (Maisie, 13)
Q. The Thing I love best about the bus is
The kids really enjoy the arts and crafts.  It is a friendly atmosphere (Mum)
The freedom for children to choose thei9r own activity and be their own masters (Mum)
I love the sandwiches and the friendly staff.  They are cool because they talk to you (M. age 12)
Q. I like the bus picnic because
It's nice that they get a free dinner and activities to do. (Mum)
It was delicious and so generous and included fruit (Mum)
Great to have lunch.  I haven't had lunch for weeks.  I have to make it myself and I can't be bothered. (Rilee, age 12)
An orange! I haven't had an orange for ages.  I can hardly remember what they taste like! (calum, age 11)