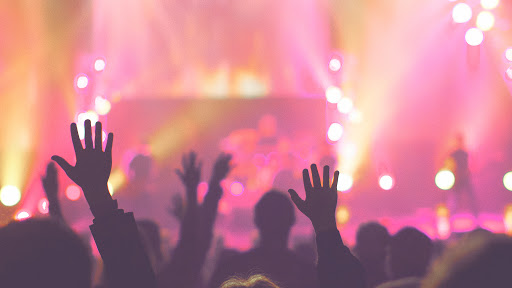 The Worship Service at King's Church now begins at 10.15am.

You are welcome to join us in the church building or to watch the service steamed live online.

Worship begins at 10.15
Preaching begins around 10.30
Children's work begins around 10.45 with a live link into a play-room throughout the service.

To watch live on Facebook click HERE
(please note, you will need a facebook account for this)

To watch a recording of the service on Youtube (from Sunday afternoon), click HERE

Click HERE for our COVID risk assessment
Previous week's services are listed below.
Sunday 26th July
News from the family
What has God been saying to different members of the King's Church family during lockdown? How ready are we to face what is ahead?
Click HERE to watch
Sunday 19th July
A Great Escape
A great escape. The apostle Peter is broken out of jail by an angel as the church prays. Rev. Jill Walker asks, can we pray in such a way that we and others are released from situations where we feel trapped and restricted?
to watch Click HERE
Sunday 12th July
Castles in the Sand
Looking at the story of Belshazzar's feast, Rev. John Beynon shows us that we serve a God who is behind the rising and falling of nations. Though the devil is active in building his strongholds all around the nations, our prayers can change the landscape of history. Ultimately all that the devil constructs is like a castle of sand, whereas the purposes of God endure forever.
to watch click HERE
Sunday 5th July
Break Out Now
The early church breaks out into the world as a result of a vision from God. How will God release today's church into a waiting world?
to watch click HERE
Sunday 28th June
Prayer – the hinge of history.
Daniel literally changed the course of his nation's history through his prayer. Rev. John Beynon shows us 3 principles from Daniel's famous prayer in Daniel Chp. 9 that will teach us how to pray nation-changing prayers too.
Click HERE to watch
Sunday 21st June
Before … and … after
An outpouring of the Holy Spirit changes a life. In this service, Rev. Dr. Jill Walker talks about how a transformed Peter goes out into the world. She goes on to ask the question, "Can we also be clothed with power from on high?"
click HERE to watch
Sunday 14th June
Are you ready for what is coming?
In this programme, Rev. John Beynon looks at the Bible verse where God talks about shaking the world in order to remove everything that can be shaken, and helps us to see what we can do in order to prepare ourselves for such a time.
click HERE to watch
Sunday June 7th
A Sign of Hope: Emerging from Lockdown.
What can the symbol of the rainbow tell us as we navigate our way through a new normal in church and society?
click HERE to watch.
Sunday May 31st.
Be Filled with the Holy Spirit.
Would you like your life to be filled with the presence and the power of God? On the day of Pentecost, the first disciples discovered how this was possible. With interviews from Icelandic Missionary to Burkina Faso, Hinrik Thorsteinsson, Rev. John Beynon explains how we can be filled with Holy Spirit today.
Click HERE to view
Sunday May 24th.
My Source. Drinking the best water you've ever tasted. Finding Jesus' living water and living a joyful life through the Holy Spirit.
Click HERE to view
Sunday May 17th.
Psalm 92. "Flourish".
During this lock down period Is your life drying up and shrivelling? Or are you flourishing, now more than ever? Rev. Dr. Jill Walker outlines some keys as to how your life can flourish even in the most difficult of times.
Click HERE to view
Sunday 10th May.
Psalm 130. "A Road map from despair to hope". Rev. John Beynon asks; have you ever been stuck in the depths of despair? In Psalm 130, the writer laments the depths of his current trouble, but then gives us a road map from there to a place of hope, confidence and peace.
Click HERE to view
"Reunited". Sunday 3rd May. Jesus asks Peter, "Do you love me?". Dr. Jill Walker, pastor at King's Church Beverley takes a fresh look at the story of Peter being reunited with Jesus after his prolonged time of distancing himself.
Click HERE to view. Available from 10am on Sunday
"The Power of Hope" – Sunday 26th April.
Former King's Church leader now missionary Steve Sleight considers the power of hope and helps us to see how God wants to give us hope in the midst of any crisis.
Click HERE to view. Available from 10am on Sunday.
"The power of Daniel's daily devotion" – Sunday 19th April.
Continuing his series on the book of Daniel, Rev. John Beynon looks at the well-known story of Daniel in the lions' den, and sees how Daniel's life-pattern of daily devotion gave him the spiritual strength he needed to overcome that crisis.
Click HERE to watch (available on Sunday from 10.00 am on Youtube
Join us for our Easter Celebration at King's Church Beverley. Hear what Easter means to different members of the King's Church family, enjoy live worship, testimony and an Easter meditation. Plus, could Jesus have really risen from the dead?
click HERE to watch on Youtube
"What is God doing in this time of confinement?" by Dr. Jill Walker. Sunday 5th April is entitled Click HERE to watch
"Lift up your eyes", by John Beynon, from Psalm 121. Sunday 29th March. Click HERE to watch

"Living in Peace in the midst of a crisis". John Beynon. Sunday 22nd March